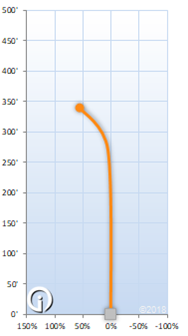 | | | |
| --- | --- | --- |
| Speed: | | 7 |
| Glide: | | 4 |
| Turn: | | 0 |
| Fade: | | 3 |

Function:

Fairway

(What's This?)




Stability:

Overstable

Weights:

158-175g

Difficulty:

Advanced



Community's Product Tips:
Coming Soon
Manufacturer's Description:
The Notch is Vibram's first wicked overstable fairway driver. It can handle tons of power, laughs at winds and still gives a good amount of glide. A comfortable grip provides a consistent release, making this one of our most reliable discs. The Notch is the disc with the strong flight and heavy fade you crave. Take the O-Lace and Solace, marry them, and give them a small winged child—that's the Notch!
Vibram XL-Medium Rubber - Durability: 10 (What's this?)
X-Link Medium, also known as X-Link, is a unique rubber-based compound which resists scuffs, has incredible durability and unequaled grip. Additionally, X-Link has a stronger memory than any disc currently on the market, so if you do manage to bend it out of shape, in all likelihood, it will work its way back.